Everybody is always asking me, "Zac what are you doing‽ Why don't you keep us informed on the interweb?" And I always answer, "Because I am busy doing stuff and junk…" And then they walk away. But really I have been very busy in recent weeks helping to organize a huge fund-raising event for REVAMP. For those of you squares out there that don't know about REVAMP yet, they are a non profit dedicated to aiding our few remaining art programs with recycled and re-purposed art and craft materials. If you want to know more visit them here. The event is titled the SUMMER ART EXPLOSION and is being sponsored by the fantastic people at Help-U-Sell here in Sonora. The event will feature food, fun and entertainment such as an open mural, silent auction, craft competition and the kids craft of the day Toy-Hacking!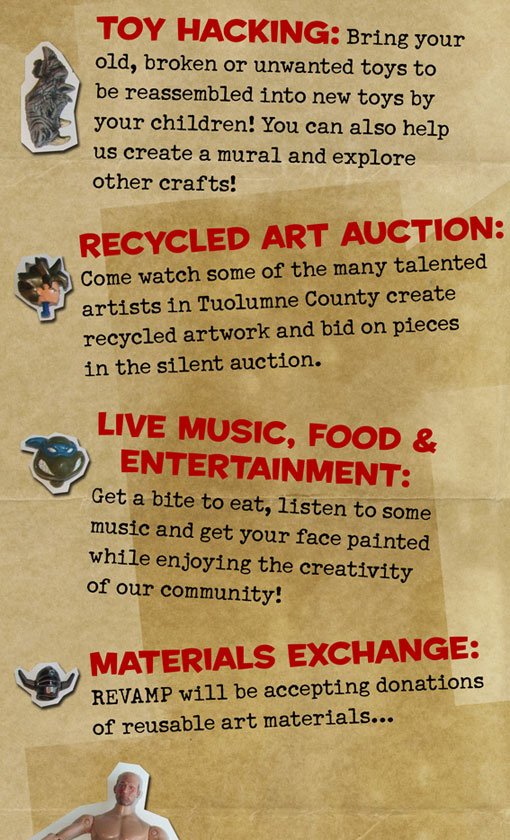 Here is a little more on Toy-Hacking: Basically we are taking your old and unwanted toys and disassemble them until they are nothing more than limbs, heads, torsos, wheels, wings, etc.
Then with the help of some big kids like Peter and myself kids of all ages will be able to reassemble them.
Once reassembled they will become Frankentoys that are ready for a new paint job and a lot of fun!
Come join us in the fun on August 1st and help REVAMP sustain the creativity of Tuolumne County's children. If you don't care to join in the crafty fun you can sit, eat and enjoy the music of the Minor Birds and the other great local bands that will be playing. I hope to see you there!