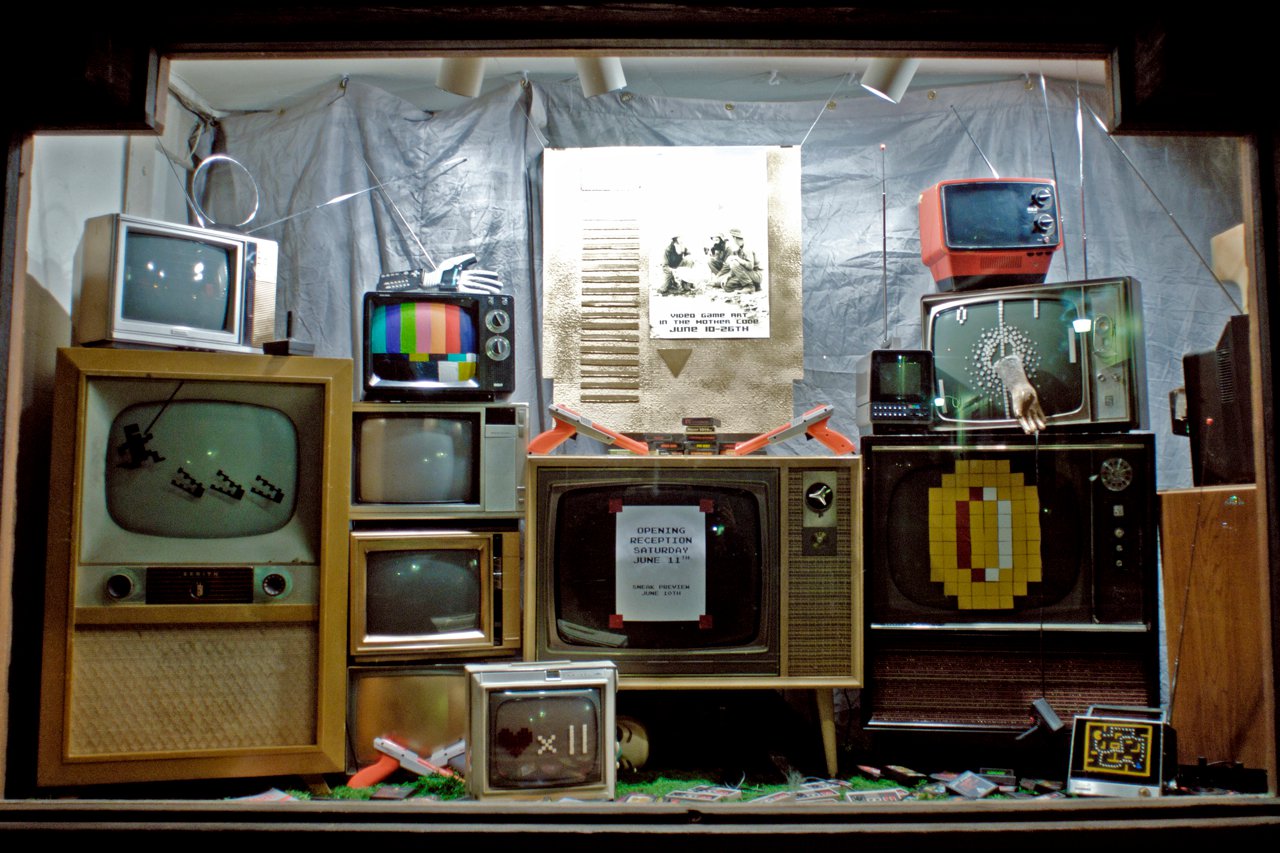 The  Gold Cartridge Show is upon us. It has been a long road with a lot of thinking and planing and talking and planing and emailing and waiting and emailing and some foot work and finally a little bit of hanging. And of course when it came time to release the show onto the public I had double booked myself for the weekend so I missed it all. Luckily we will be hosting music and partying every Saturday while the show is up. Either way, figuring out our first fully independent art show has been quite the experience. Making it all happen isn't as hard as people will tell you it is, especially when you have a group of cool cats all working towards the same goal. Things got a little loosey goosey in the middle when no one wanted to take the reigns, but everyone handled their own and finished their parts of the project with flying colors. Here is a link to a video the Wildes put together as a teaser for the show.
We gave ourselves a two month window to complete this project and it seemed to be a perfect amount of time for our first attempt. As we put on more shows certain steps will get easier and more attention will be placed on promotion. The two most important aspects of coordinating an art show would be having art and a place to hang art. So getting the word out to all of the artists and social media outlets as soon as possible is pretty key. Of course the artists will all be submitting pieces that are still drying and without proper hanging devices no matter how much time you give them. Being in a small town, one of our key pieces of local promotion was our fantastic window display that was largely directed by Jen Fletcher of REVAMP. She brought us a large collection of old TVs to decorate and it couldn't have turned out better. Our largest problem was dealing with all of the illiterate crack heads that were upset we weren't an "old TV store."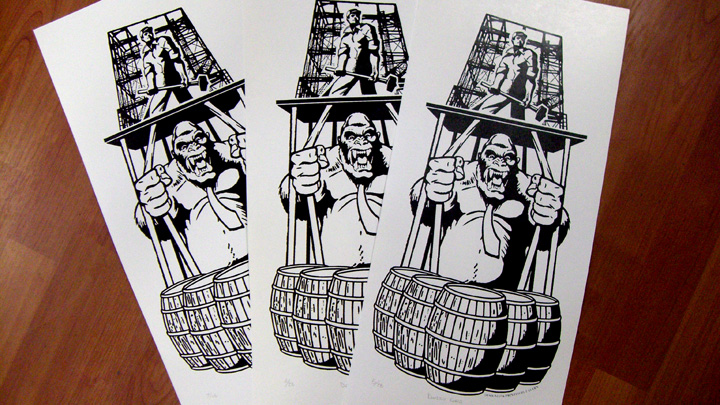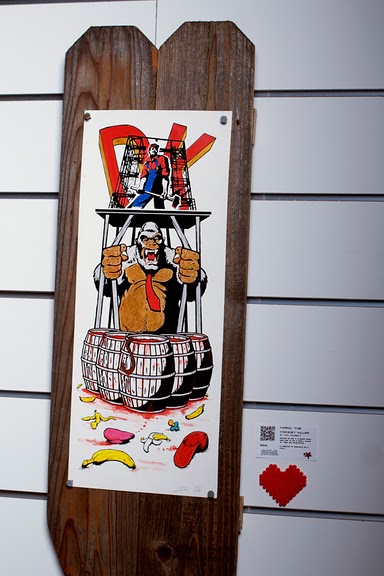 Being a printmaker, I am all about selling high quantity (and quality) at an affordable price as opposed to investing in one piece and hoping it will sell. For my entry I screened a limited run of one color prints featuring one of my favorite video game characters, Donkey Kong. It was my first run of non-garment screenprints since college and I loved printing them. It is so much faster than printing linocuts! I compiled and modified some old clip art to create an imagined end screen from the original Donkey Kong. I also chose to paint up one of the prints and mounted it to some fence planks so that I could have something colorful to hang next to all of the other great work. This piece turned out fairly morbid as I chose to show Mario as a monkey exterminator who has already succeeded in ridding the world of Diddy, Dixie and Kiddy Kong from the Super Nintendo franchise and is about to drop the hammer on the big Donkey. I think it turned out pretty well and apparently a lot of the people at the reception did as well.