I am currently working with a terrific non-profit known as Recyclers Exchanging Various Art Materials and Projects or REVAMP. Below are some photos of our last craft event which was held in Downtown Sonora during their Spring Fling this April. I spent most of the day helping kids make bugs and flowers while others in the group were constructing a giant beehive, fabric banners, coloring and playing music.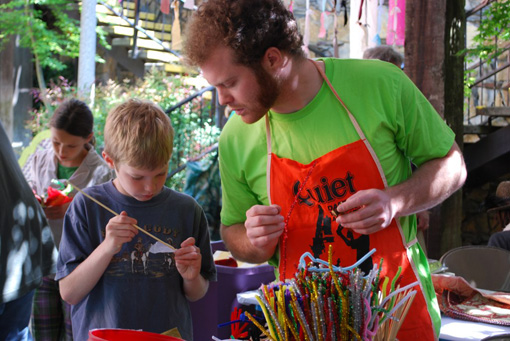 By breathing new life into old objects, REVAMP reduces the amount of waste going into crowded landfills. Anyone, business or individual, can save money on disposal costs and (in the future) receive tax benefits by contributing clean, reusable materials that might otherwise be thrown away.



The Spring Fling turned out to be great fun and only the first of many events REVAMP has planned for the near future. Events in June and August are already in the works. Sonora Help-U-Sell is teaming up with REVAMP on August 1st for our first major fundraiser. The craft for the day will be the franken-craft of toy hacking! This includes tearing apart old or broken toys to be reconstructed into new toys for the kids to take home. The event will also have live music, live art, food, a silent art auction and much more. The event will be held in the Help-U-Sell parking lot near Sonora High School. Check back with this link for more information as it comes up and always remember that when a man wears an apron it is called a smock!
{Photos by Kim Mathie}