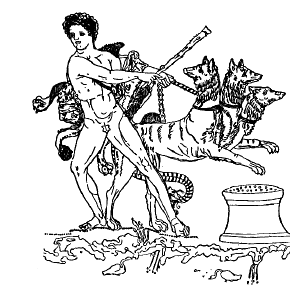 Several months ago I was given the opportunity to decorate a dog house in order to raise money for the new Rotary Dog Park that is coming to Sonora. It was an assignment that had little direction and gave me quite the creative block. Once they delivered the dog house I realized I had never painted something so large and did not know who the target market was. At first I thought that the houses were going to decorate the park so I was going to throw some monstrous dogs from lore on the roof. Cerberus, chupacabra or an axe-handle hound perhaps.
I then found that the houses were going to be separately raffled off and figured that I should make it a little more appealing to the general public so that it would generate more money for the park. With that in mind I looked to the people around me for inspiration. My dad had just bought me a book on 1950s sci-fi art that I started to look through. I realized while leafing through the book that both my dad and brother love antiques. Old, rusty junk that does nothing but collect dust and "value". This lead me to create Dogfight 2020, a rusty, retro spaceship paint job that a dog might enjoy.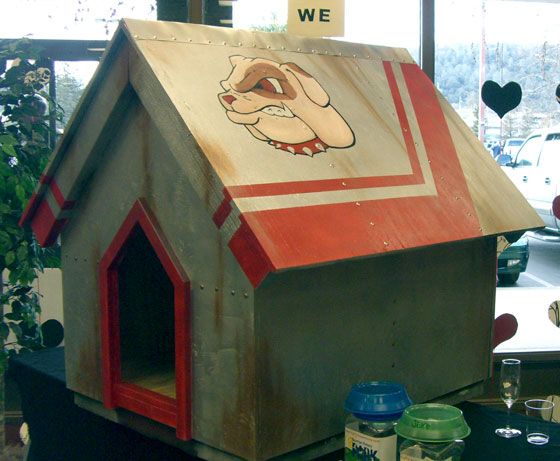 With the help of Chelsea and Joel Wilde, I taped off and spray painted the roof of the house. On the left side of the roof I painted out a bomber-style bulldog head and on the left you will see how many space-pirate-cats the pilot has shot down. I weathered the house with various aerosol paints to get a dirty and rusty look. I finished it off with some aluminum flashing and several coats of clear. This project was a great opportunity for me to work with spray paint. It is a medium that I rarely utilize, but often admire. I look forward to more aerosol fueled projects and collaborations in the future.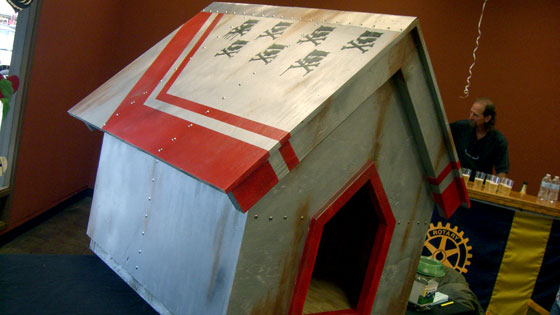 The turn out for the initial presentation was great. Below you can see a glimpse of the most sought after house of the collection, Judy Grossman's tribute to the SF Giant's World Series win. You will be able to purchase raffle tickets for the houses at the Sonora Home & Garden Show that will be held at the Fairgrounds from March 13-20th. That will be your only chance to get your hands on one of these dog houses so mark it on your calendar and and buy a raffle ticket. After all it is for a good cause.